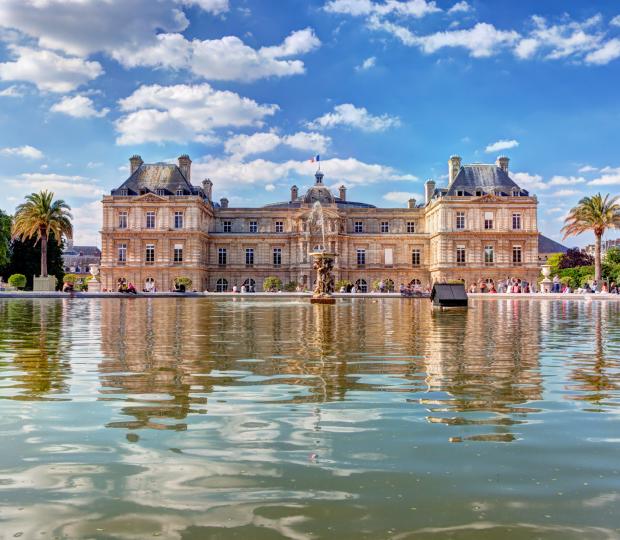 Your hotel overlooking the Jardin du Luxembourg
Published on , in Paris
Paris in summer is a great place to enjoy pleasant walks in the fresh air. A great location for such a stroll is overlooked by the Hotel Observatoire Luxembourg. This is the Jardin du Luxembourg, one of the most beautiful and elegant public parks in the capital.
The Jardin du Luxembourg; a verdant haven
Among the oldest public green spaces in Paris, the Jardin du Luxembourg was begun in 1612 at the behest of the widow of King Henri IV, Marie de' Medici, who was inspired by the Boboli Gardens of Florence in her native Italy. Its 25 hectares are divided between beautiful French gardens, romantic English gardens, lawns, tree-lined promenades and a large octagonal pond. The park is home to over a hundred statues, monuments and fountains scattered throughout its verdant expanse. The exquisite classical silhouette of the 17th century Luxembourg Palace, currently the seat of the French Senate, watches over the whole.
Attractions of the Jardin du Luxembourg
This splendid park offers a very pleasant breath of fresh air in the heart of the Parisian summer. Here, you can take a nap, read or simply enjoy the serenity and watch the world go by. Why not take the opportunity to get into a game of chess or bridge? Children find plenty to keep them busy with games, slides, swings, and sailing model boats on the pond. You can visit the apiary for an introduction to beekeeping, explore the orchard and see its ancient apple varieties and admire the amazing orchid collection in the park's greenhouses.
The Jardin du Luxembourg awaits you for a jog, a picnic or a family outing, just a few steps from the Hotel Observatoire Luxembourg. Feel free to ask us about the park's opening times and the various activities and exhibitions at the Luxembourg Palace.
******
More information:
---
Hotel Observatoire Luxembourg, a 4 star Boutique Hotel in the centre of Paris