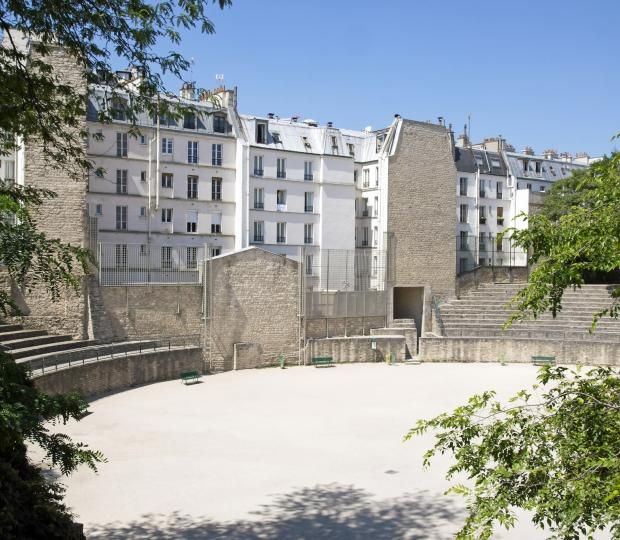 The Arènes de Lutèce and Thermes de Cluny; the Paris of Antiquity
Published on , in Paris
What is now Paris was once Roman (despite, of course, fierce resistance!). The Gallo-Roman city of Lutèce (Lutetia) was established in the last half century B.C. Much of this stronghold has been lost to time, but some vestiges remain, including the Arènes de Lutèce and the Thermes de Cluny, just a short way from the Hotel Observatoire Luxembourg.
Step into antiquity at the Arènes de Lutèce
You will find this partially preserved and partially restored amphitheatre very close to Jussieu, between the rues Monge and Navarre. The Arènes de Lutèce stands in a public park and can be visited for free. It's an evocative experience to sit on the terraced seating where, in the first couple of centuries A.D., a cheering throng of up to 17,000 spectators would laud actors and gladiators.
The Thermes de Cluny Gallo-Roman baths
To visit this Gallo-Roman thermal bathhouse, go to the Museum of the Middle Ages, housed in the Hôtel de Cluny, one of the few medieval residences in Paris still standing. The impressive and well-preserved vaulted frigidarium is inside the museum building and the ruins of the caldarium and tepidarium are in the grounds. By appointment, you can also see the heating system of wood ovens beneath the Boulevard Saint-Michel.
Open yourself to the past...
Little remains of the splendour of Lutetia's largest public baths, which once covered an area of nearly 6,000 m2. However, if you linger a while and gaze on the monumental column called the Pillar of the Boatmen or the original blue pigment still visible on the arch, you can easily imagine a masseur here, a tonsor there and, from the palaestra, the voices of young men engaged in wrestling. Open yourself to the past and it will seem to spring into life all around you.
******
More information:
- Arènes de Lutèces
- Thermes de Cluny
Crédit photo : Arènes de Lutèce © Paris Tourist Office - Photographe Jacques Lebar
---
Hotel Observatoire Luxembourg, a 4 star Boutique Hotel in the centre of Paris