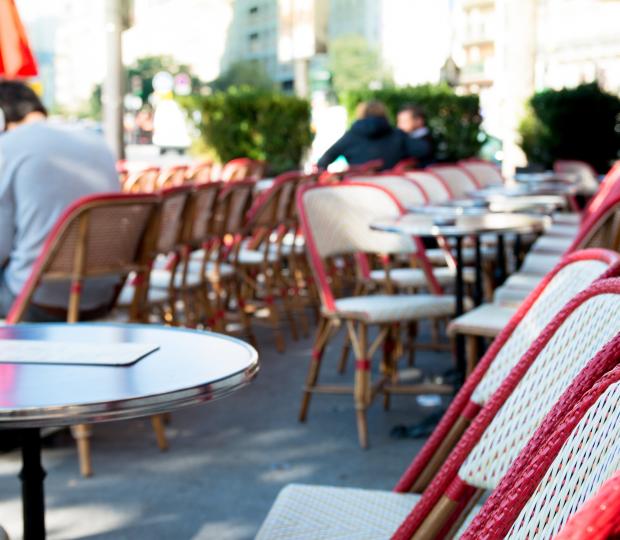 Terraces of the Left Bank
Published on , in Paris
A historic district of students but also of intellectuals and artists, the Left Bank is also bucolic, refined, and friendly. When summer comes, it opens its legendary or lesser-known terraces to the inhabitants of its neighbourhoods and visitors alike. Discover these charming places during your stay at the Hotel Observatoire Luxembourg…
The Paris of intellectuals and artists
Why not start with two simply unmissable terraces? The first invites you into the heart of Saint-Germain-des-Prés. The Café des Deux-Magots was, along with its neighbour, the Flore, the place where intellectuals and, later, the creatives of the New Wave, would get together. You will be able to have lunch at a table once occupied by Sagan, Godard or even Sartre... The second legendary terrace is that of the Rotonde brasserie, a ten-minute walk from the Hotel Observatoire Montparnasse. There, you will sense the ghostly echo of the yesteryear presences of Picasso, Modigliani, Hemingway and Cocteau...
All the charms of the Left Bank
The Hotel Observatoire Luxembourg team also invites you to enjoy a typically Parisian bistro experience with Aux Antiquaires. This restaurant and its very polished decor, just a short stroll from the Musée d'Orsay, has a pleasant terrace on the street where you can savour fine seafood and classic bistronomy dishes. Finally, treat yourself to a bucolic interlude in the Jardin du Luxembourg. Leaving the hotel, all you have to do is cross the street to enter this peaceful and elegant green space. A pleasantly refreshing walk among the groves will take you to La Terrasse de Madame. This new and pretty restaurant, entirely open to the outside, offers gourmet salads and delightful desserts.
A few minutes from the Hotel Observatoire Luxembourg, you'll have plenty of choice for lunch, dinner, or simply a drink on the terrace!
******
Photo : ilolab
---
Hotel Observatoire Luxembourg, a 4 star Boutique Hotel in the centre of Paris