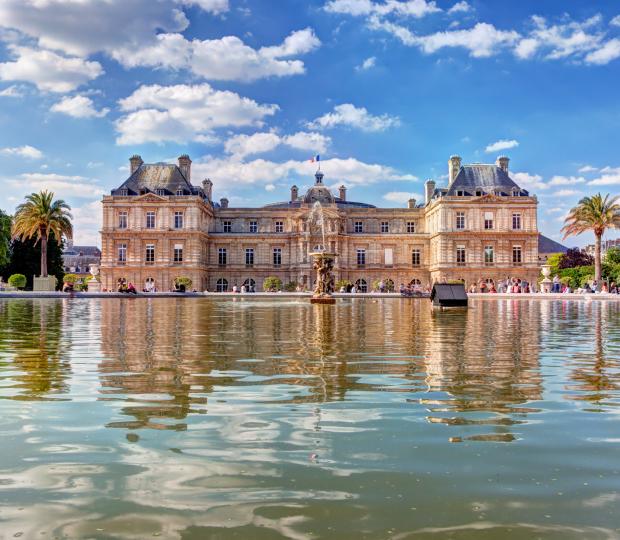 Stroll through the parks of the Latin Quarter
Published on , in Paris
Particularly famous for its literary cafés, bookstores, arthouse cinemas, antique shops and fashion boutiques, the Latin Quarter is also a great place to take a stroll. During your stay at the Hôtel de l'Observatoire Luxembourg, discover beautiful parks in the surrounding streets that invite a relaxing stroll...
At the heart of the city's history
To begin with, don't miss the opportunity to enjoy some golden moments of relaxation in the Jardin du Luxembourg! To reach this famous park from the Hôtel de l'Observatoire Luxembourg, you just have to cross the street. As you wander around, you will discover its various spaces, from the beautiful straight paths of the French garden to the romantic groves of the English garden, by way of the Grand Bassin pond and a magnificent array of statuary. Continue your stroll by the Seine, in the Square René Viviani, which shelters the oldest tree in Paris and offers an exceptional view of Notre-Dame Cathedral.
Different places, different ambiances
Extend your walk to the Jardin des Plantes, opposite the Grand Mosque of Paris. Thousands of plant species are preserved in this, the main botanical garden of France. You can complete your visit by visiting the greenhouses, the menagerie and the Grand Gallery of Evolution. For an intimate and romantic stroll, head to the Square Tino Rossi, next to the Seine. With its contemporary works of art displayed in the open-air sculpture gallery and its view of the quays, it offers a very aesthetic experience. Finally, don't forget to enjoy the timeless atmosphere of the Square Paul Painlevé, a true haven of peace between the Sorbonne and the Musée de Cluny.
Staying at the Hôtel de l'Observatoire Luxembourg, you'll be within easy reach of the most beautiful places to stroll in Paris. Steeped in history, majestic or intimate, they offer you the opportunity to experience some delightful relaxation in a typically Parisian atmosphere.
******
Photo: Photocreo Bednarek
---
Hotel Observatoire Luxembourg, a 4 star Boutique Hotel in the centre of Paris