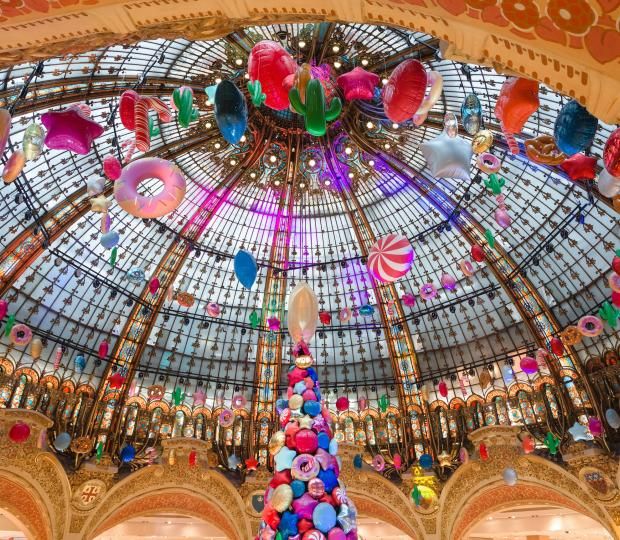 Christmas shopping in department stores
Published on , in Paris
Christmas is coming and there's festive magic in the air. Decorations, enchanting display windows, twinkling lights and a sense of breathless anticipation all combine to sweep you up in the holiday ambiance. Your Hotel Observatoire Luxembourg invites you to add to the excitement by shopping in the capital's famous department stores. Plenty of surprises await you!
Christmas shopping in department stores; don't miss out
Printemps Haussmann, BHV Marais, Galeries Lafayette, Bon Marché; the great department stores compete creatively to maintain the magic of this time of year. Parisians don't feel that the festive season is complete without a visit to one of these majestic giants of the retail world with their gorgeous Yuletide window displays, heart-warming decorations, huge glittering Christmas trees and, of course, thousands of gift ideas from major brands. You can also enjoy inviting restaurants, the rooftop ice rink at the Galeries Lafayette, personal shoppers at Bon Marché and workshops for children.
Magic worlds in the windows
The special magical flavour of the Grands Magasins (department stores) during this holiday season also comes from their imaginative, lively and charming shop display windows. This tradition enchants children but also fascinates adults due to the sheer creativity of the scenarios, the intricacy of the movements of the automata and the clever nods to the chosen themes. Santa's elves in action, reindeers pulling his sleigh, and typically Parisian scenes populated by dozens of endearing characters display all the creative verve and ingenuity of their designers. And remember that your shopping spree will go even better when you accompany it with a crêpe, a waffle and some mulled wine!
Among the essentials of the holiday season in Paris, Christmas shopping in the capital's great department stores clearly holds a special place. Join in the fun during your stay in Paris at the Hotel Observatoire Luxembourg!
******
Crédit photo : © Paris Tourist Office - Photographe © Sarah Sergent
---
Hotel Observatoire Luxembourg, a 4 star Boutique Hotel in the centre of Paris