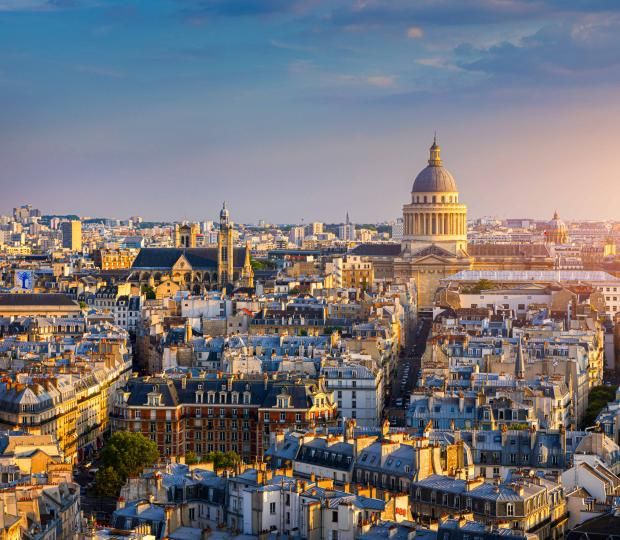 All the secrets of the Pantheon
Published on , in Paris
A ten-minute walk from the Hôtel Observatoire Luxembourg stands one of the most imposing monuments in Paris, the Panthéon. Proudly bearing its famous inscription, Aux grands hommes, la patrie reconnaissante (To the great men, the grateful homeland), it is the final resting place of several heroes of France. However, this sumptuous building also has many secrets that you can discover during your stay in Paris...
Amazing architecture
In the mid-18th century, Louis XV entrusted the architect Jacques-Germain Soufflot with designing a church dedicated to Sainte Geneviève. Soufflot envisioned a Greek cross shaped layout, which scandalised the clergy of the time. Now a secular building, the neoclassical Panthéon is surmounted by a magnificent dome. This architectural feat actually comprises three superimposed domes, the structure of which you can admire during your visit. You will also discover many other amazing details.
The heroes of the nation
A visit to the Panthéon also allows you to pay your respects to the men and women who made major contributions to the Republic. Writers, scientists, politicians and resistance fighters are gathered in this inspiring place. However, there is no shortage of amusing or unusual facts about this hall of heroes. Did you know, for example, that Mirabeau and Marat only spent a short time in the Panthéon before being 'dépanthéoniséd'? That Voltaire and Rousseau rest face to face for eternity although they had opposed each other throughout their lives? That Dumas and Hugo continued their friendship and are installed side by side in the crypt? Or that Simone Veil only agreed to be buried there on the condition of being accompanied by her husband? Many other moving or intriguing stories await you at the Panthéon!
A prestigious and imposing place, the Panthéon fascinates with its architecture and the presence of the great men and women who are buried there, offering an inspiring experience in more ways than one.
******
Photo: daliu
---
Hotel Observatoire Luxembourg, a 4 star Boutique Hotel in the centre of Paris