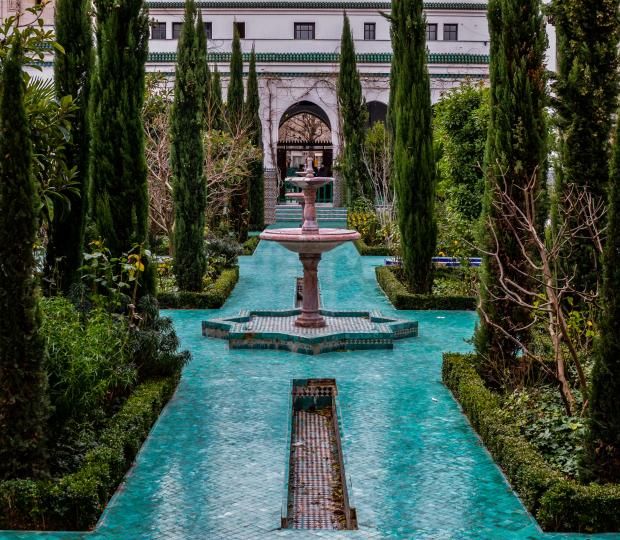 A change of scenery in the heart of Paris
Published on , in Paris
The 5th arrondissement has many facets. There's the Latin Quarter adored by students and intellectuals, the bucolic loveliness of the Jardin du Luxembourg a two-minute walk from the Hotel Observatoire Luxembourg, and the very lively and popular Rue Mouffetard with its many cafes and restaurants. While, facing the Jardin des Plantes botanical garden, is a location that will sweep you off to another continent: the Grand Mosque of Paris. Succumb to its enchantment!
A fascinating story
After the First World War, the Grand Mosque of Paris project was launched to honour the memory of the Muslim soldiers who gave their lives fighting for France. Between 1922 and 1926, the project benefitted hugely from the labours of hundreds of artisans and artists from the Maghreb, who supplied their traditional skills and experience. This is how this superb holy place built in the Hispano-Moorish style, inspired by the finest medieval architecture, came to be. Stuccos, mosaics, and ceramics create a dazzling decor from the patios and gardens to the Great Prayer Hall.
A break at the Grand Mosque
During your visit to the Grand Mosque of Paris, you can treat yourself to a delightful and tasty break or a wellness session. The site houses a restaurant, a tearoom and a hammam. Take a seat in the tranquil and exquisitely lovely surroundings of the gardens and enjoy a traditional mint tea or stay inside to savour a couscous or a traditional tagine. The elegant ceramic décor of the hammam also welcomes you and offers various treatment options. Please note that the hammam is for women only.
A place of spirituality and well-being, the Great Mosque can be discovered with a guided tour, or you can just go along to take a gourmet break in the gardens. A fifteen-minute walk from the Hotel Observatoire Luxembourg, it offers a striking change of scenery!
******
Photo: Laura
---
Hotel Observatoire Luxembourg, a 4 star Boutique Hotel in the centre of Paris